VILLIERA WINES and DOMAINE GRIER are proud to announce being selected for five categories on the prestigious 2017 Sommeliers Selection Wine List.
THE SOMMELIERS SELECTION is the only South African wine competition judged solely by a panel of South Africa's Top Sommeliers, in categories molded around that of a "wine list".
Judges were looking to select wines based on age worthiness, suitability to food, and the overall value for money.
The aim being to come up with a wine list they can all proudly stand behind.
Categories included amongst others, economically savvy wines by the glass, fresh crunchy whites, elegant and classy, luscious and aromatic, voluptuous rich reds, stickys and craft beer.
The Economically Savvy Wine by the Glass: FIZZ: Villiera Tradition Brut NV (the only one selected)
Luscious and aromatic whites: Villiera Jasmine 2017 (one of 3 selected)
PINKS: Domaine Grier Rose 2016 (one of 2 selected)
Fresh and Juicy Reds: Domaine Grier Grenache 2014 (one of 5 selected)
FIZZ MCC Non Vintage: Villiera Tradition Brut NV (one of 2 selected)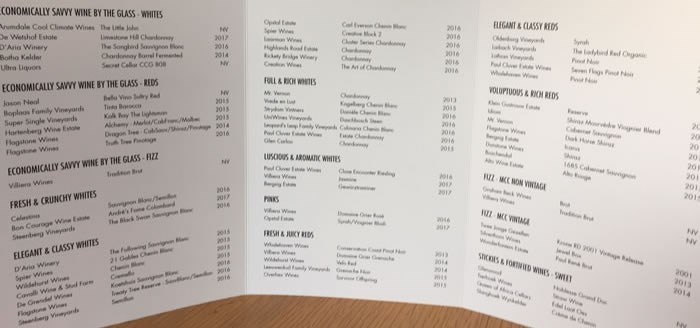 The Sommeliers Selection Wine List is now available HERE...