If you are like-minded, thankfully, in addition to a host of international Champagnes and local sparkling wine options, Woolworths has an excellent and wide range of Méthode Cap Classique (bottle fermented sparkling wine) on offer, produced exclusively for Woolworths by Villiera, which will satiate any and every bubbly lover's palate.




Woolworths Villiera MCC Brut
Comprised of 50% Chardonnay, 30% Pinot Noir and 20% Pinotage, only the cuvee (the best qualityjuice) is used in this blend, and the sparkling wine is matured in contactwith the lees for an average of 18 months.This MCC is a blend of redand white grapes displaying the full, balanced yeasty complexity synonymous with a wine made in thisstyle. The wine retains its fresh racy zestiness that is a result of crisp acidity and rich fruit.Perfect on its own, or for any celebration, this fine bubbly will enhance oysters andsushi, as well as dessert or cheese.

Available in the following sizes: 1.5 litre for R189.95 | 750 ml for R94.95 | 375 ml for R69.95
Woolworths Villiera MCC Light Brut
Renowned for innovation, MCC Light Brut is a new innovation from Woolworths. Jeff Grier, of Villiera, has worked with Woolworths' Cape Wine Master, Allan Mullins tocreate the first Cap Classique which is both low in alcohol and lower in kilojoules, without qualitycompromise.A small amount of alcohol is removed after blending to ensure it meets the requirements for lightwine. The sparkling wine is matured in contact with the lees for 24 months. MCC Light Brut can age for atleast two years from date of purchase. With age the wine softens in flavour, maintaining its sparkle, giving afulfilling balance of age and fruit. The taste displays light, balanced yeasty complexity synonymous with a wine made in this style, and thewine retains its fresh zestiness that is a result of crisp acidity and delicate fruit. 750ml for R94.95.

Woolworths Villiera MCC Demi Sec
Rich andrefreshing with a creamy toastiness, the MCC Demi Sec fills the palate with a yeasty complexity and a good acidity balancedout with the sweetness of the style.A special dosage is made up and added when the wine is disgorged, and the sparkling wine is matured in contact with the lees for an average of 18 months. This fine bubbly is perfect on its own, or will enhance strong and creamycheeses, caramelised onion tart, liver paté and many types of desserts. 750ml for R94.95.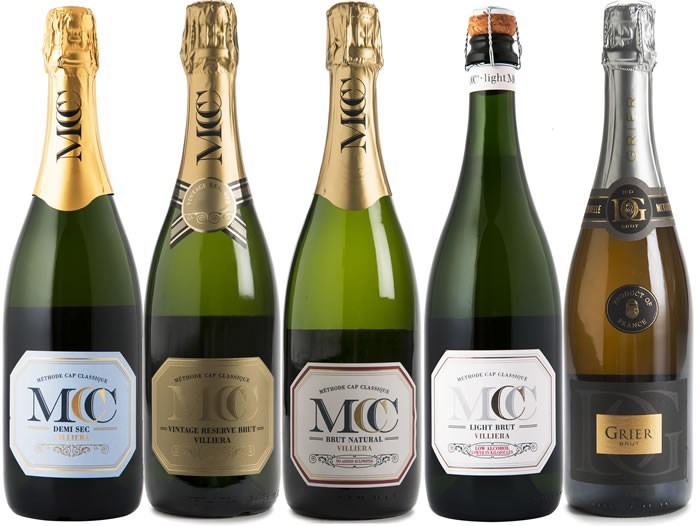 Woolworths Villiera Brut Natural (2012)
Brut Natural was a pioneering effort from Villiera, first made in 1998. Importantly, the addition ofsulphur was avoided throughout the entire process. Only Chardonnay grapes which were sourced exclusively in Villiera's ecologically friendlyvineyards were used in the production of Woolworths Brut Natural. Anextended three year period of yeast contact was allowed to ensure maximum development of this exceptionalsparkling wine. The balance and softer style of this Cap Classique made it possible to avoid adding dosagewhich means it is extra dry and ideal as an aperitif.A rich, creamy, yeasty aroma is followed by a full, ripe toasty flavour on the palate finishing dry with a savoury aftertaste.Maturation will occur at a quicker rate with this particular bubbly, so it should be consumed within three years of release. 750ml for R134.95.
Woolworths Villiera MCC Vintage Reserve (2010)
A prestige cuvée, produced whenever conditions favour the production of fine sparkling wine, this CapClassique is made with maturation potential in mind. 60 % Chardonnay is blended with 40% Pinot Noir, and only the cuvée was used in the blend. Part of the Chardonnay wasfermented in used oak barrels for extra complexity. After blending with the Pinot Noir, yeast and sugar wereadded for a secondary fermentation in the bottle followed by extended lees contact of 5 years. A rich, creamy, yeasty noseis followed by a ripe toasty flavour on the middle palate, developing finesse andcomplexity on the aftertaste. Powerful and rich when drunk in its current form, it will continue to improve for up to three years. 750ml R159.95.

Grier Brut NV Méthode Traditionnelle
Villiera celebrates their presence in the South of France, where they own Domaine Grier, with Grier Brut - a classicbottle fermented sparkling wine made from a blend of classic and Catalan varieties, including a portion ofBlanc de Noir.After blendingand stabilisation, the wine was bottled in January 2010 forits second fermentation in the bottle, and disgorging occurred inMay 2015.This bubbly is lively and fresh to drink now, with hints ofbrioche, raspberry and spice. The finesse on the mid palateextends to complexity on the finish and the use of Blanc deNoir in the blend lends an attractive coppery hue tothe appearance. It is ideal as an aperitif or with delicateseafood dishes. 750ml for R179.95.

Riedel
In a bid to provide a full wine shopping experience, Woolworths has also partnered with Riedel, the wine glass company, to offer customers a range of premium glassware in addition to a wide selection of exceptional wines. Established in 1756, Riedel is a family owned and operated business that has been producing glass in Europe for 260 years.Recognised worldwide for designing and manufacturing the highest quality varietal-specific glassware and mouth-blown decanters, the ranges are said to enhance the aroma and flavour of wines and spirits. The introduction of a range of products to Woolworths stores from October 2016, from this internationally celebrated brandmeans that fans will be able to shop for their favourite items that much more easily.All Riedel glassware is dishwasher safe, and will retain its beautiful sparkle after years of use. Woolworths is now stocking Riedel decanters, and a selection of glassware for a variety of different wines, including the popular "O" series of stemless tumblers. Not only does it supplement the extensive range of existing Woolworths homeware products, but the launch of this well-loved label adds even more variety to Woolworths' offering of quality and reliable design.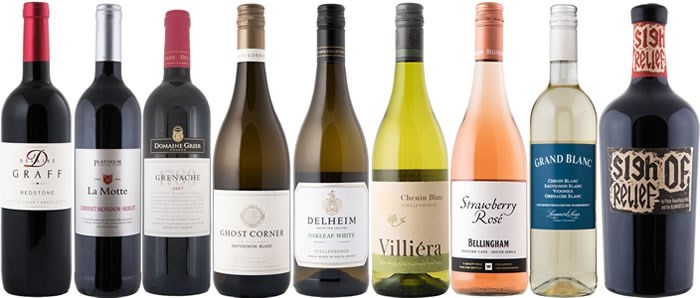 Shop for these delicious sparkling wines, and many others, as well as the beautiful Riedel glassware range in selected stores country wide.
www.woolworths.co.za.